Testimonials
Comment From Narelle
"Car arrived in Tamworth Saturday and didn't miss a beat. My son is extremely happy with the car.
Thanks so much for your assistance, you were a great help and extremely patient.
I will send the paperwork back this week.
Again, thanks so much for your help with this purchase, it was very much appreciated."
10/10/2010
Comment From Jeremy B
"Thank you to you and your staff for your recent efforts in assisting with our requirements.
From finding a vehicle which suited our needs within our budget, right through to ensuring delivery to King Island, our entire experience with West End City Motors was a pleasure. Delivering equipment to King Island is always difficult given the complex road and shipping components, but your attention to detail made this process seamless. Thanks again and we will be in touch for our future requirements."
06/01/2011
Comment From Jarrod B
"Expert and friendly staff, quality vehicles, advice and service. Extremely happy with my purchase and would recommend West End City Motors. Thanks guys."
05/08/2012
Comment From Mark Briody
"It was an absolute pleasure working with you from the very first phone call. I must admit you were a welcomed well-mannered gentleman who delivered a quality vehicle that superseded our expectations at the price range we were looking. I appreciate your honesty and the length of effort you went to as you have left a lasting impression on both myself and my brother who were initially sceptical in our search. Since our purchase the vehicle is still running perfectly and we couldn't be happier. I highly recommend you to those looking for a genuine professional to help match them with a good quality second hand vehicle."
10/05/2013
Comment From Col Funston
"We just purchased a used Holden Rodeo from West End City Motors and highly recommend them. It's always a little unnerving buying a vehicle from a dealer out of your state or area, but Glen and staff at WECM were exceptional. Honest assessment, efficient administration, extra touches and post-sale follow up made the process easy. We will make first contact with WECM on our next vehicle purchase."
12/12/2013
Comment From Chris Willis
"Due to work restraints I was unable to talk on the phone during work hours which made buying a car very hard.
Until I came across Stephen at West End City Motors who showed great patience with me and communicated with me via email for well over a month.
Other dealers I had contacted didn't respect my situation and kept trying to call me on the phone.
Stephen gave an accurate description of the vehicle which was reflected in the vehicle report I had purchased presale.
His no pressure approach, honestly and customer service was first class even organising delivery and pick up of my trade-in.
Stephen thank you for a great buying experience and I will be recommending you to everyone I know who is looking to buy a car."
22/12/2013
Comment From Lindsay
"I live locally and wasn't confident in visiting a car yard due to past experiences, my mechanic recommended you guys and from first contact with a few casual questions over the email that lead to a friendly phone call from Glen made my purchase a positive one. I would just thank you guys for my Mazda and taking the stress outing buying a car."
27/02/2014
Comment From Jerome Wong
"I am writing to express my deep appreciation for the excellent standards of customer service displayed by Mr Glen Cantwell in my family's purchase of a 2001 Camry wagon from your company.
Living in Tamworth, I was unable to view the car immediately and made my initial enquiries through phone and email. Glen was always responsive and forthcoming in answering my phone and email queries, even after business hours. He described the car thoroughly and objectively, even mentioning the minor blemishes (which I expected in a 13 year old car). His honest appraisal of its very good condition was confirmed when I viewed the car subsequently. The Toyota dealer in Tamworth has since given it a "once-over" and proclaimed it a 'very tidy car'. Glen also went the extra mile in checking and verifying the car's mileage and service history, as the previous owner had lost the logbooks. He rang up 12 dealerships around Sydney and was able to trace the car's service history over the past 10 years. Quite an effort! My family and I are extremely satisfied with Glen's exemplary standards of customer service. His attitude also reflects well on your company. We could not have asked for anything more to improve the sales process. Thumbs way way up! P.S. I've attached a picture of the car at home. Our sons John (left) and Jeff are performing their version of the Toyota "Oh what a feeling" ad... Just to express how pleased we all are!"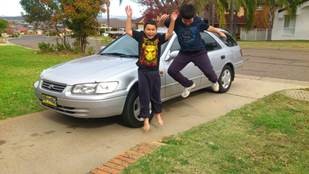 10/06/2014