Warranty
At West End City Motors you be the judge when it comes to the quality of our vehicles. We prepare our cars to the highest standards to ensure:
Our customers talk about us for all the right reasons
Our customers are not inconvenienced through breakdowns or faults
We build a successful business through repeat customers
All our vehicles are independently inspected and MUST pass our rigorous Workshop Safety Inspection which make them eligible for a 1 - 3 year Warranties and Road Assistance packages through Australian Warranty Network (AWN).
Benefits of an AWN Extended Warranty:
Established in 1992
Unlimited kilometres*
Unlimited claims*
Covers both parts and labour
Australia wide repairer network
Day one commencement
No claim forms - just phone us
Comprehensive range of covered components
Flexible product range for all types of vehicles
AWN pays repairer direct
Even if you have a non-claim related problem, we will assist you
Transferrable to new owner
Frequently Asked Questions
Do I need an extended warranty?
If you are like most people, you intend to keep your motor vehicle for between 3 to 5 years. As your motor vehicle ages and in particular, after your factory manufacturer warranty has expired, the risk of failure or breakdown increases.
AWN warranties are specially designed to help reduce the financial impact of unexpected and potentially expensive mechanical repairs when you can least afford it.
Where can I service my Motor Vehicle?
AWN strives to exceed every customer's expectations by providing you the flexibility to have your motor vehicle serviced at a licenced workshop of your choice.
Where can I have my Motor Vehicle repaired?
If a problem occurs, whether at home or interstate, we have you covered with over 1200 (twelve hundred) approved repairers Australia-wide.
Can I transfer my extended warranty?
The benefits of your AWN warranty are transferable with your motor vehicle, adding value to your motor vehicle when it's time to trade-in or when selling your motor vehicle privately.
Do I have to pay an excess when making a claim?
AWN aims to provide you with a quick, seamless and stress free claims experience. When making a claim, there are no hidden fees, or excess to pay. You also don't have to worry about paying for an approved repair and then wait for reimbursement, as we will pay the approved claim amount direct to the AWN approved repairer.
Example of Extended Warranties available: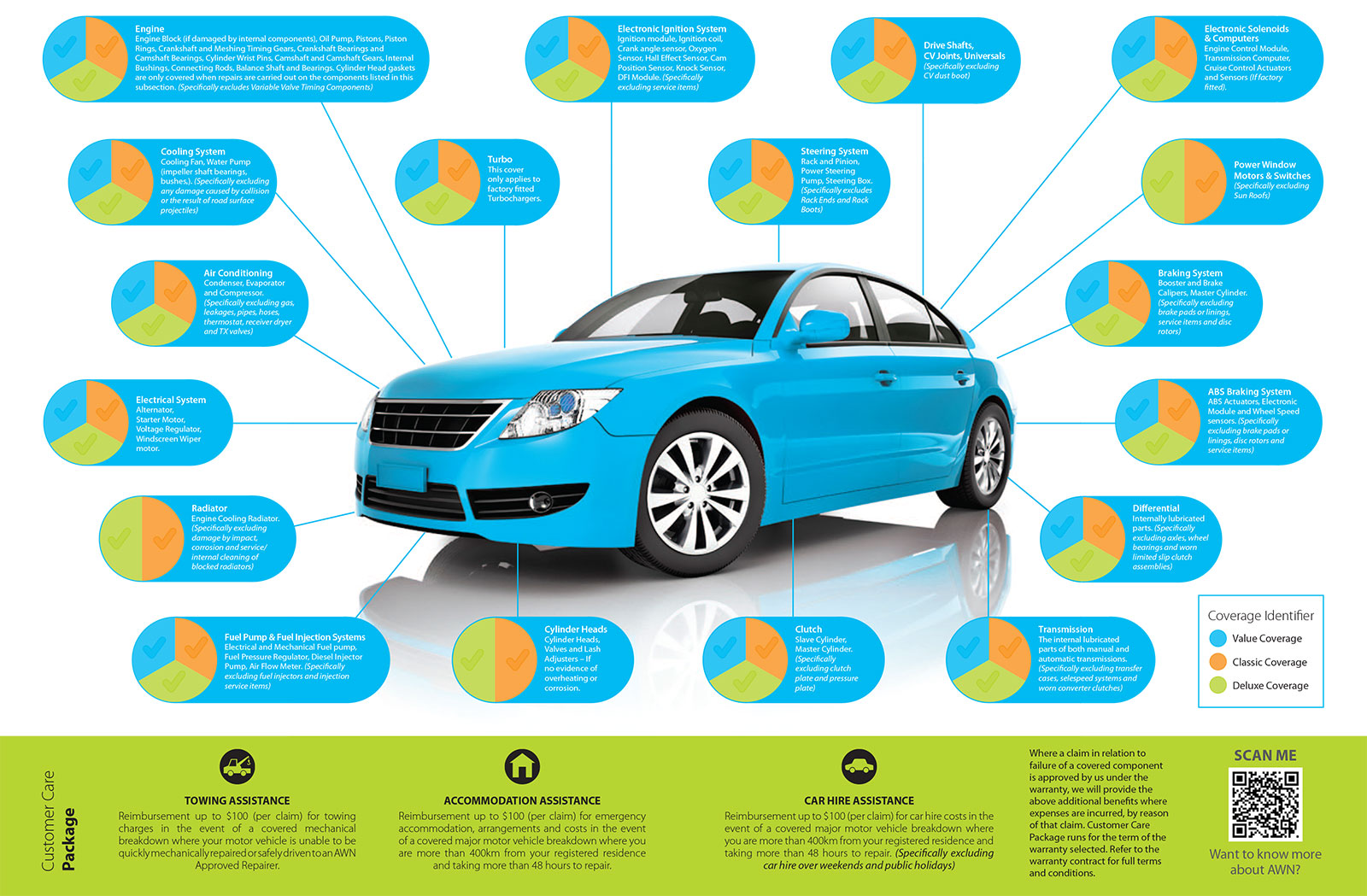 *This document is for information purposes only. For full Product Disclosure Statements and coverage details, please refer to the Terms, Conditions, Limitations and Exclusions of the Warranty by contacting your local AWN Authorised Agent.